Sport Fest is essentially the sports day you always wished for as a kid. Last weekend thousands of 5-16 year olds and their parents descended on the Wormsley Estate in Buckinghamshire for a two day extravaganza of sport and music. Our friends at SMYLE managed the technical production of the event and contracted us to take care of the audio.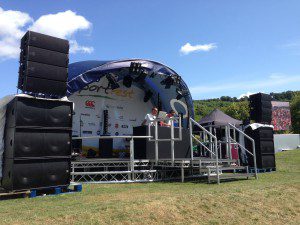 The main stage featured 8 of our Martin Audio MLAc stacked on 6x WS218x subwoofer cabinets. Serving announcements and background music during the day's sporting activities, the relatively small arrays handled the 130m throw across the legendary cricket ground extremely well. As the evening drew in we re-optimised the PA's programming to focus the sound in the audience area immediately in front of the stage and reduce levels towards the edge of the field. On stage monitoring was taken care of by 6x Ohm TRS115 wedge monitors and Sennheiser EW300 G3 IEM systems. A 100v line system was supplied to ensure emergency announcements were heard clearly in the farthest reaches of the site.
X-factor runner-up Luke Friend was a big hit with the kids.